Post Construction Cleaning Checklist in Seattle
Post Construction Cleaning Checklist in Seattle. Congratulations! You just completed your construction project. Now what? Post construction cleaning is critical to ensure the home/building is safe, clean and ready for tenants.
It can be overwhelming to know everything that needs to be done, so here at Queen Bee Cleaning Services, we put together a checklist for all your post construction cleaning needs.
Vacuum Carpets in Seattle
To ensure the carpets look their best, they need to be vacuumed thoroughly. This will help remove debris and allergens that collected during construction.
Wipe Down Countertops
It is common for dust and dirt to collect on countertops during construction. Be sure to wipe down kitchen, bath and utility room countertops during post construction cleaning.
Sweep/Vacuum and Mop Hardwood and Tile Floors
Just as carpet collects debris, dirt and allergens, so does floors. Make sure to sweep or vacuum floors before-hand to get up looser particles, and then mop thoroughly.
Clean Windows, Glass Doors and Mirrors
It's easy for windows, mirrors and glass doors to pick up fingerprints and smudges during installation. Be sure to spray them with a glass cleaner and wipe with a paper towel. Avoid using a rag, as it may leave behind fibers on the glass.
Dust Ceiling Fans and Ceilings
Dust can accumulate on ceiling fan blades as well as the ceiling. Be sure to dust and pay special attention to the fan blades, as they have the most dust build up.
Clean Windowsills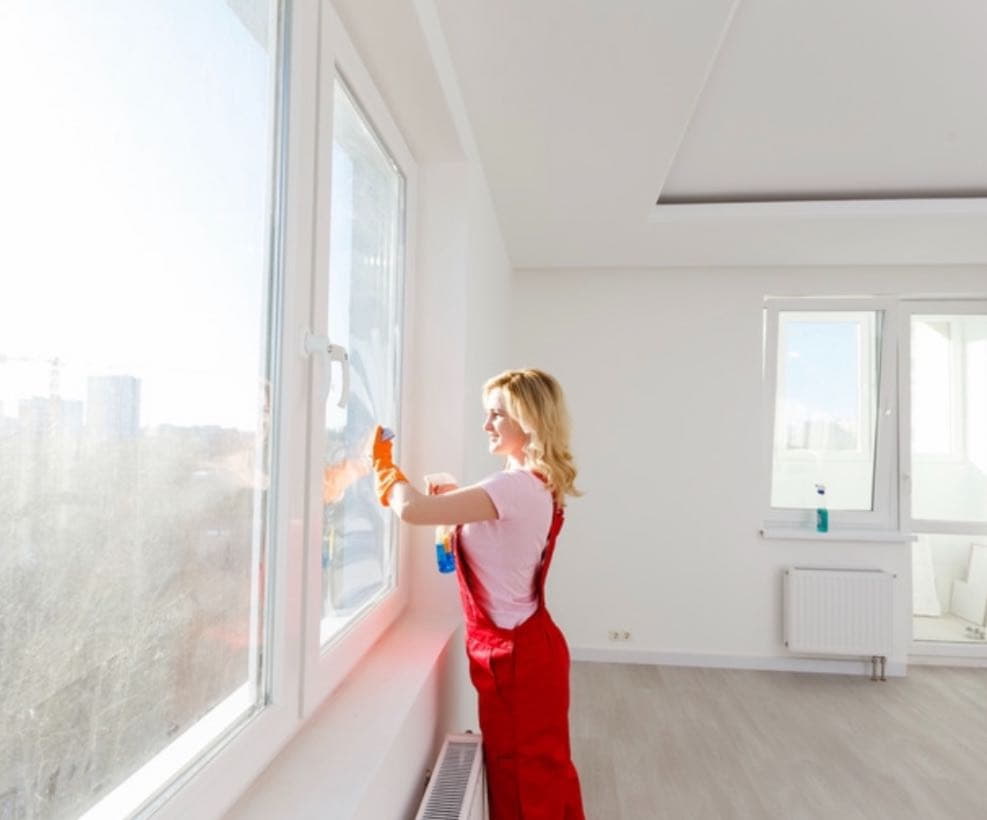 As dust gathers on countertops, it also tends to collect on windowsills. Be sure to clean all these spots to remove the debris build up.
Clean Exterior Lights
Not only can lights have fingerprints from being installed, but they also can gather dirt from being out in the elements. Dust off, and use window cleaner for any glass parts during post construction clean up.
Clean Toilets
Perhaps one of the most important places to remember to clean is the toilets. Clean toilets not only look better but are also more hygienic for the new tenants use.
Remove Cobwebs
Depending how long construction takes, it is not uncommon for cobwebs to develop in corners (both floor and ceiling), and porches. Be sure to check anywhere they may accumulate and remove them with a vacuum.
Collect and Remove All Trash
Do a thorough walk-thru of the building and the yard to collect and dispose all trash. Often times, construction can lead to trash being left in closets, on countertops, out on the lawn, etc.
Post Construction Cleaning Checklist in Seattle
Hiring a Maid Service to Complete Post Construction Cleaning in Seattle
This checklist can seem tedious but everything on it is important to complete during post construction clean up. Hiring a maid service can be time-saving and efficient.
When researching possible companies, look for a maid service that specializes in post construction cleaning. You want to be sure the company can handle the amount of work involved, as well as getting it done as quickly as possible for your tenants.
Here at Queen Bee Cleaning Services we work hand in hand with many Seattle construction companies to provide outstanding service for their cleaning needs.
We are proud to serve Redmond, White Center, Tukwila, Seattle and beyond. Feel free to call us at 425-786-1360 with any questions or to set up an appointment!