Post Construction Cleaning Checklist in Seattle
Post Construction Cleaning Checklist in Seattle. Congratulations! You just completed your construction project. Now what? Post construction cleaning is critical to ensure the home/building is safe, clean and ready for tenants.
It can be overwhelming to know everything that needs to be done, so here at Queen Bee Cleaning Services, we put together a checklist for all your post construction cleaning needs.
Vacuum Carpets in Seattle
To ensure the carpets look their best, they need to be vacuumed thoroughly. This will help remove debris and allergens that collected during construction.
Wipe Down Countertops
It is common for dust and dirt to collect on countertops during construction. Be sure to wipe down kitchen, bath and utility room countertops during post construction cleaning.
Sweep/Vacuum and Mop Hardwood and Tile Floors
Just as carpet collects debris, dirt and allergens, so does floors. Make sure to sweep or vacuum floors before-hand to get up looser particles, and then mop thoroughly.
Clean Windows, Glass Doors and Mirrors
It's easy for windows, mirrors and glass doors to pick up fingerprints and smudges during installation. Be sure to spray them with a glass cleaner and wipe with a paper towel. Avoid using a rag, as it may leave behind fibers on the glass.
Dust Ceiling Fans and Ceilings
Dust can accumulate on ceiling fan blades as well as the ceiling. Be sure to dust and pay special attention to the fan blades, as they have the most dust build up.
Clean Windowsills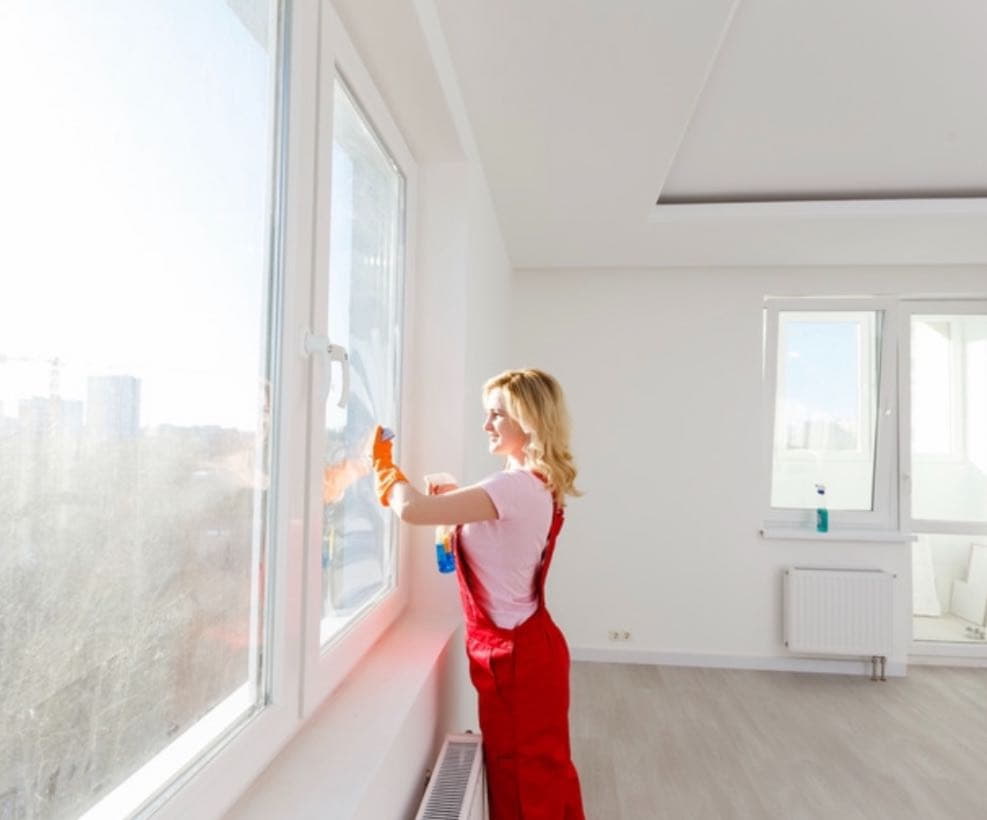 As dust gathers on countertops, it also tends to collect on windowsills. Be sure to clean all these spots to remove the debris build up.
Clean Exterior Lights
Not only can lights have fingerprints from being installed, but they also can gather dirt from being out in the elements. Dust off, and use window cleaner for any glass parts during post construction clean up.
Clean Toilets
Perhaps one of the most important places to remember to clean is the toilets. Clean toilets not only look better but are also more hygienic for the new tenants use.
Remove Cobwebs
Depending how long construction takes, it is not uncommon for cobwebs to develop in corners (both floor and ceiling), and porches. Be sure to check anywhere they may accumulate and remove them with a vacuum.
Collect and Remove All Trash
Do a thorough walk-thru of the building and the yard to collect and dispose all trash. Often times, construction can lead to trash being left in closets, on countertops, out on the lawn, etc.
Post Construction Cleaning Checklist in Seattle
Hiring a Maid Service to Complete Post Construction Cleaning in Seattle
This checklist can seem tedious but everything on it is important to complete during post construction clean up. Hiring a maid service can be time-saving and efficient.
When researching possible companies, look for a maid service that specializes in post construction cleaning. You want to be sure the company can handle the amount of work involved, as well as getting it done as quickly as possible for your tenants.
Here at Queen Bee Cleaning Services we work hand in hand with many Seattle construction companies to provide outstanding service for their cleaning needs.
We are proud to serve Redmond, White Center, Tukwila, Seattle and beyond. Feel free to call us at 425-786-1360 with any questions or to set up an appointment!
Is the thought of giving your house a proper deep clean looming over your head? Luckily, there are deep cleaning services out there to tackle this tiresome chore for you!

Instead of spending hours organizing your cupboards, scrubbing your counters and dusting away the cobwebs, entrusting in a professional cleaning service can save you hours. However, the trick to a good deep clean is to know which service will do the job properly.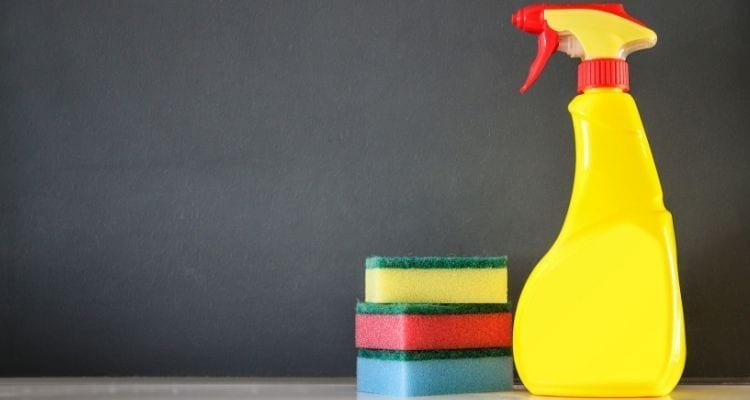 Our List of Top Deep Cleaning Services in Bellevue:
Queen Bee Cleaning
Queen Bee Cleaning is often a top contender as the best deep cleaning provider out there and we couldn't be prouder of it! At Queen Bee Cleaning, we value the need for clearing away the clutter and getting rid of the hard to reach dirt and grime a house can gather. If your home hasn't been professionally cleaned in a while, Queen Bee Cleaning will be there for your rescue!

Our deep cleaning services include addressing both larger chores and the smaller tasks that make a huge impact. From cleaning the interior windows and sills, hand detailing blind and baseboards, to mopping your floors, we've got it covered.

What We Like:
Easy online booking
Handles smaller details
Professional employees
Affordable prices
Maria House Cleaning Service
Next on our list of deep house cleaning services in Bellevue is Maria House Cleaning Service. As a winner of Angie's List Super Service Award, you can expect a high level of work ethic from this Seattle based company.

Maria House Cleaning Service has landed themselves on our list due to their speedy and efficient work that comes at an affordable price. Despite which service you require, this company ensures that all of your cleaning needs are dealt with every time. While this service doesn't directly offer a deep cleaning option for its customers, you can customize your appointment to include the areas that need more attention.

What We Like:
Affordable prices
Online booking
Inclusive list of cleaning chores
What We Dislike:
Doesn't specifically cater to deep cleaning
Deep cleaning chores are added extras
Minimum hour billing applies
Seattle Family Cleaning Service
Another favorite amongst Bellevue locals is Seattle Family Cleaning Service. This cleaning service offers both whole-home cleaning and customizable hourly rates based on your needs.

When booking your deep clean with this company, you will have full access to their full list of basic services and additional chores too. These chores include cleaning inside your refrigerator, oven, windows, and cabinets as well as detail cleaning your blinds. These deep-cleaning perks usually would come at an extra cost if you had to choose one other of their cleaning options.

An important factor to note is that if your home has hard to reach places, Seattle Family Cleaning Service may not be able to assist you. As part of their standards, they state that they do not allow their staff to climb higher than the second step on a ladder.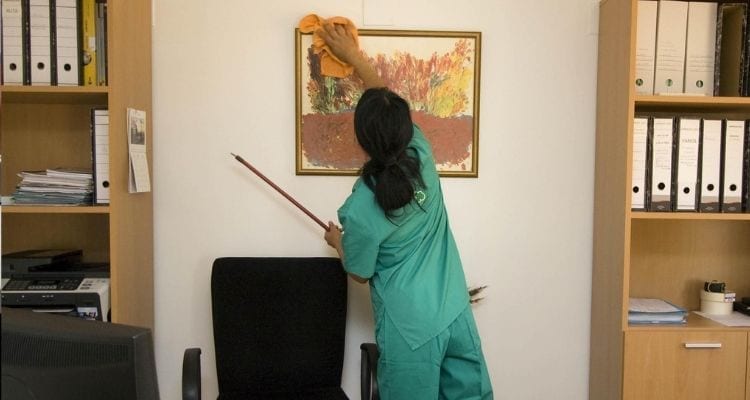 What We Like:
Discounted price if you book online within 60 seconds
Extensive cleaning capabilities
Offers Venmo payments
What We Dislike:
>Excludes chandelier or glass lamp cleaning
You may be required to do a final walkthrough to ensure you're fully happy with their service
Pure House Cleaning
If you're looking for a cleaning service that is efficient but uses green products, Pure House Cleaning is for you. Unlike most eco-friendly products, Pure House Cleaning uses only the best cleaning agents to ensure that your house is left sparkling.

In terms of deep cleaning, this company is particularly efficient in its organization and tidying capabilities. Pure House Cleaning will help you declutter any messes and remove all traces of dirt in your home, which might be needed if you only deep clean once a year!

What We Like:
Uses green products
Personalized services
Proven track record with strong testimonials
What We Dislike:
Doesn't have an online chat for speedy responses
Can't automatically book online
Adrianne's Housekeeping
This locally owned business is fantastic for offering thorough deep cleans when you need them! Adrianne's Housekeeping is well-known for their professionalism and ease of communication which makes them a breeze to work with.

On top of their speedy services, Adrianne's Housekeeping offers a thorough list of deep cleaning chores and they bring their own cleaning products too.

What We Like:
Manage appointments online
Easy online payments
Friendly and efficient staff
What We Dislike:
You will still be required to provide some cleaning products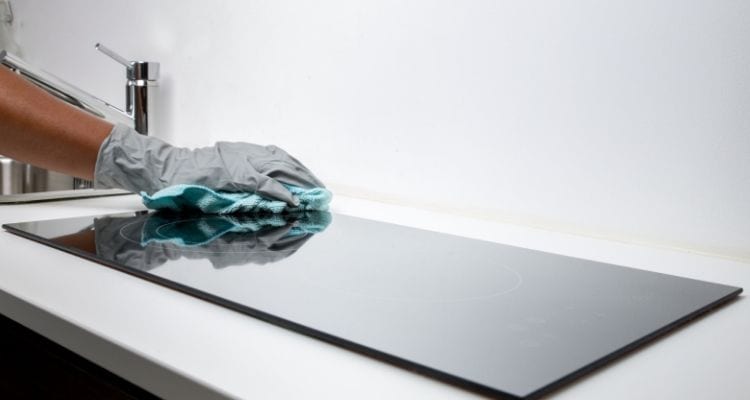 These cleaning services come highly recommended and will get your house looking just as beautiful as that famous Bellevue view!


-
Post Description: QBClean Bellevue, WA - Deep House Cleaning Services in Bellevue - Categories: Cleaning & 5 Star Cleaning Service. Related page: Gift-Cards
Additional Categories: Bellevue, Additional Tags: 5 Star Cleaning Service, Related Page: Gift-Cards
-