It's no secret that a clean bedroom can lead to a better night's sleep. But with our busy schedules, it can be hard to keep our bedrooms as clean as we'd like them to be.
Do you find yourself constantly unhappy with your bedroom's mess but just seem unable to tidy things up? Well, you might be going about it the wrong way. Remember, small actions can build up to big habits, and today, we're going to share with you some great tips to help you get started enjoying a clean bedroom every time:
1. Make Your Bed Every Morning
Do you make your bed in the morning when you wake up? If you don't, do so! This is the most important step in keeping your bedroom clean. A made bed will make your room look and feel more inviting and put you in a better mood for the day. Plus, by training yourself to make the bed every day, not only do you become more aware of the importance of a clean bedroom, but it can even spark a more productive day!
2. Keep Your Clothes off the Floor
A bedroom is not a laundry room. Keep your dirty clothes in a hamper or laundry basket and your clean clothes in your closet. This will help to keep your bedroom looking and feeling clean and tidy. Also, it reduces the risk of you tripping, which can lead to injuries.
3. Dust Your Bedroom Regularly
Dust can build up quickly. Why? Well, you spend a significant amount of time there, and just so you know, most dust you see at home is from your skin! So, it's important to dust your bedroom at least once a week. Use a dust cloth or vacuum with a dust attachment to remove dust from surfaces like your dresser, nightstand, and headboard. Sometimes, you can even do it once every day or the like, depending on how clean you want the place to be!
4. Vacuum Your Bedroom Regularly
Vacuuming once a week at least will help to keep your bedroom clean and dust-free. Be sure to vacuum under your bed and in any other hard-to-reach areas. If you find that once a week isn't enough, then adapt your schedule to vacuum a little more often.
5. Declutter Your Bedroom
A cluttered bedroom can make it feel smaller and more cramped. So, declutter your bedroom by getting rid of any clothes, shoes, or other items that you don't use or need. This allows you to keep your bedroom organized, and it makes cleaning a whole lot easier too.
Conclusion
By following these simple tips, you can keep your bedroom clean and ensure a good night's sleep. Remember, even tiny things like making your bed can help make your bedroom a lot tidier! So, don't avoid them. Do them as often as possible, and over time, you'll see that they're actually quite easy to do while still being incredibly effective. But of course, if you find yourself unable to keep your bedroom clean, you can always reach out to cleaning services to give your bedroom the cleaning (or deep cleaning) that it deserves.
Queen Bee Cleaning Services is Seattle's best house and Airbnb cleaning service, offering deep cleaning, move-in/out cleaning, and more. If you are looking for the best house cleaners in Seattle, work with us today!
8 Advantages of Hiring Your Weekly House Cleaning Service
Hiring a weekly house cleaning service has many advantages. It can save you time, money, and hassle. Here are some of the main reasons to think of hiring professional deep cleaning services:
You'll Save Time
One of the most noticeable gains of hiring weekly house deep cleaning services is that it will save you time. If you're like most individuals, your time is precious, and you don't want to waste it on cleaning your home. A professional cleaning service will do the job quickly and efficiently so you can spend your time on more important things.
You'll Save Money
Another great advantage of hiring a weekly house cleaning service is that it can save you money. When you hire a professional service, you will only have to buy some of the expensive cleaning supplies and equipment. In addition, you won't have to waste your time and energy cleaning your home, which can save you money on your utility bills.
You'll Avoid Any Hassle
Another advantage of hiring a weekly house cleaning service is that it can help you avoid hassles. If you try to clean your home on your own, you may need to do a better job and likely end up with a messy house. But when you hire a professional cleaning service, they'll do the job right, and you won't have to worry about a thing.
You'll Get a Clean Home
Of course, one of the most significant advantages of hiring a weekly house cleaning service is that you'll get a clean home. A professional cleaning service will clean your home from top to bottom, ensuring that every nook and cranny is spotless. You'll be able to relax and appreciate your clean home without any problems.
You'll Prevent House Damages
Another advantage of hiring deep cleaning services is that they can help to protect your investment. A clean home is less likely to have problems with mold, mildew, and other issues that can cause damage to your home.
You'll Keep Your Home Safe
Another advantage of hiring a weekly house cleaning service is that it can help improve your home's air quality. Dust and other allergens can build up over time, causing respiratory problems for some people. A professional cleaning service can help to remove these allergens, providing a healthier environment for you and your family.
You'll Enjoy The Peace of Mind
Hiring a professional house cleaning service can give you peace of mind. You'll know that your home is being cleaned by experts who will take care of everything for you.
You'll Maintain Your Home Properly
A weekly house cleaning service can also help to protect your furniture and appliances. Regular cleaning can extend these items' life and help them look their best. This can save you bills in the long run, as you won't have to replace items as often.
If you're considering hiring a weekly house cleaning service, weigh the advantages and disadvantages to see if it's the right decision.
Conclusion
Hiring a professional house cleaning service is the way to go if you want a reliable and affordable weekly house cleaning service. Not just will you save time and money, but you can also rest assured that your home will be clean and tidy.
Queen Bee Cleaning Services is a professional house cleaning company that offers its customers a wide range of deep cleaning services. We are a reliable and trustworthy company that provides its customers with high-quality services at an affordable price. Contact us to book a service!
After selling your present home, you will either buy a new one or move in with family or friends. That is all there is to it. What would you think if you were to move into a filthy new flat? Not unusual from my perspective!
If the new homeowners clean up before they leave, they can avoid embarrassment and have a spotless home to begin their new lives in.
The cleaning checklist has been condensed into a list of 5 definite "Must Dos" that you must complete before leaving your home. Let's keep going.
Clean The Kitchen
The kitchen is perhaps the hardest room in the house to clean, so it makes sense to start there.
Remove any excessive items from all cabinets before beginning the easier tasks. Make sure to scrub them down completely on the interior and outside, and remove any stains that could be there.
After that, you might start cleaning your appliances underneath and behind them. Give any built-in appliances or equipment you're leaving behind, like a freezer, oven, or dishwasher, a full deep cleaning to remove any accumulated dirt and hide it.
Next, clean any minor fixtures that may require cleanings, such as countertops, baseboards, and other items. The floor should be given one final sweep after being thoroughly mopped.
Arrange the Living Areas
Since most people spend most of their time in living rooms, keeping them clean can be difficult. Clean your carpet properly after moving your furniture. If there are any stains you cannot remove on your own, you might want to consider contacting a professional cleaning service in Seattle.
Make sure to give any shelves, cabinets, fireplaces, and stands a thorough cleaning before washing them down.
Completely Clean The Bathroom
The main bathroom fixtures that need cleaning are the shower, bathtub, sinks, and toilet.
If you've been routinely cleaning your bathroom ever since you've owned your home, this shouldn't take very long.
To prevent mold and limescale buildup, clean metallic surfaces like taps and showers properly.
Last but not least, look for plug holes in your sink and bathtub. Check to see if the water is moving freely. If there are issues, you might need to get your drains cleaned.
Think About The Garden
Because they believe the garden is something that only exists "outside" of their homes and is less significant, many people typically ignore it.
If you have a shed, try to get any trash out before leaving. Make every effort to leave things in the finest condition possible.
Particularly tall garden plants should be pruned. Clean up unneeded messes, then mow the lawn to make it seem fantastic.
Check Additional Areas That Need Upkeep
Additionally, it would help if you cleaned the following spaces in your home:
Include all your storage areas, including any stairwells, corridors, patios, windows, doors, and window sills (indoor and outdoor).
Conclusion
Considering there's a lot to do and you're already caught up with the whole moving-out process, it's best to hire a move-out cleaning company in Seattle for their services instead. There are many reasons to hire move-out cleaning services. For one, cleaning your home before moving out can be stressful and time-consuming. In addition, a professional cleaning service will do a thorough job, ensuring that your home is clean and presentable for the next tenants. Finally, hiring a move-out cleaning service can be more cost-effective than trying to clean the home yourself.
Excellent move-out cleaning services are offered in Seattle by Queen Bee Cleaning Services. We will take care of all the criteria to have your house ready to sell, even if this is your final visit before you list your house for sale. For a stress-free move-out cleaning, give us a call right away!
7 Common Move-Out Cleaning Mistakes to Avoid
A move-out cleaning is an essential part of the moving process. Most landlords require it before you can get your security deposit back. But, even if you don't have to worry about the deposit, you still want to leave your old place in good shape for the next occupants.
Here are seven common mistakes that people make when cleaning their old place. Avoid them, and you'll surely get the place looking great!
1. Cleaning Before Packing
You should never assume that a place is clean just because you cleaned it when you arrived. If you want to avoid having to clean your house again, make sure that you clean it before you pack up your belongings. This way, you can ensure everything is clean and won't have to stress about it later.
2. Mixing Up Boxes with Cleaning Equipment
Cleaning is an important step when moving to a new home, both when leaving your old home and arriving at your new one. Having all your cleaning supplies in one place will make the process easier and ensure you have everything you need.
3. Leaving The Trash In
If you don't take the trash out, it will stink and attract bugs and rodents. This is unsanitary and will make your home unpleasant to live in. Your landlord will also be unhappy if they find a mess when they come to inspect your home. It's better just to take the trash out regularly to avoid problems.
4. Leaving Food in the Refrigerator
Most people forget those food items are usually in the fridge when moving out. It is important to remember to take these items out so that they do not rot and cause a mess.
5. Forgetting to Disinfect the House
Cleaning is important because it makes the house look clean and tidy. However, there are many things that the naked eye cannot see. Using water and soap will not kill all the bacteria and other microorganisms. Therefore, it is important to properly disinfect the house after cleaning it.
6. Cleaning Too Late
The biggest mistake you can make is to wait until the last minute to clean. This is especially true if you're moving out of an apartment. If you have to be out by a certain time, you may need more time to clean properly. You should start cleaning as soon as you know you're moving. This gives you plenty of time to do a thorough job. It also means you won't be rushed and can take your time.
7. Not Getting the Carpet Cleaned
Most landlords require you to have the carpets cleaned before you move out. They do this because they want the next tenants to have clean carpets. You should rent a carpet cleaner a few days before you move out. This gives you time to clean the carpets and let them dry.
Conclusion
These are the seven most common move-out cleaning mistakes you should avoid. These include: not cleaning the oven, not cleaning the fridge, not cleaning the windows, not cleaning the floors, and not cleaning the bathroom. By cleaning these areas thoroughly before you move out, you can avoid leaving your old place in a messy state.
As Seattle's best cleaning service, Queen Bee Cleaning Services provides house cleaning, deep cleaning, move out/in cleaning, Airbnb cleaning, office cleaning, and carpet cleaning in Seattle, Washington. We're changing the image of cleaning companies by offering a convenient and seamless online experience. If you need home cleaning services, get in touch with us today! See what the buzz is all about!

Let's face it – the kitchen is usually one of the busiest rooms in your home. This means that there is no shortage of dirty dishes, spilled food, and other kitchen messes daily.
So keeping the cabinets clean is challenging at best. Of course, the longer you put off cleaning your cabinets, the harder it will be to get them looking their best.
This is why we've compiled this list of tips for cleaning your kitchen cabinets. But first, let us know why cleaning your kitchen cabinets is a must.
Why Do You Need a Clean Kitchen Cabinet?
You need to clean your cabinets because they can become a breeding ground for mold, mildew, and bacteria.
This is especially true if you have hard water in your home. Not only does this leave you with an unpleasant odor in your kitchen, but it can also lead to serious health problems such as asthma or allergies.
Another reason you need to clean your kitchen cabinets is that it can help extend the life of your cabinets. By regularly cleaning the surfaces, you are preventing dirt from building up and increasing their longevity.
Deep cleaning is also required at least once a year, but you can do a quick cleaning once or twice a month. The frequency of how often you clean your cabinets will depend on what type of food storage containers you have and how often they are used.
Guidelines for Cleaning Your Kitchen Cabinets
The kitchen is the heart of your home and where you spend a lot of your time.
You want it to look good and be functional, so it's essential to keep it clean.
Here are steps for cleaning your kitchen cabinets:
Empty the Cabinets
The first step to cleaning your kitchen cabinets is to empty them. Remove all containers and items from your cabinets and set them on the counter or table for easier access. This will make it much easier to clean your cabinets since you won't have to worry about knocking over food containers while trying to reach high shelves.
Vacuum the Inside
Vacuuming your cabinets is an important step in cleaning your kitchen cabinets. Dirt and crumbs often fall into the corners of the cabinet, so you need to ensure they're clean before you start cleaning. Use a vacuum attachment on your vacuum cleaner when doing this. Run it along the sides and bottoms of each cabinet until all dirt has been removed.
Wipe the Interior
After vacuuming, wipe down the inside of each cabinet with a damp cloth. This will remove any dust or dirt left behind by your vacuum cleaner. Use a few drops of dishwashing soap and water mixture to wipe down surfaces prone to stainings, such as wood or plastic.
Wipe the Exterior
Lastly, wipe down the outside of each cabinet using the same mixture of soap and water. This will remove any grease or dirt that may have built up on the surface of your cabinets, making them look much cleaner and brighter than before.
Conclusion
Cleaning your kitchen cabinets is one of the best ways to help your kitchen maintain its beauty and functionality. When you get into a routine of cleaning them every week, you'll be amazed at how much easier it is to keep things organized and looking great.
Do you want a sparkling clean house? Then it's time to get some professional help. Contact Queen Bee Cleaning Services today, and we can help you get your home back in shape. We will help you get your life back, and we do it all for a price that can't be beat.
While cleaning your home thoroughly may take some extra time and effort, the benefits are clear. In addition to improved air quality and overall cleanliness, deep cleaning can lead to a happier disposition, better sleep, and increased productivity. If you're looking to elevate the quality of your life, follow the tips in this blog post.
1 - Clean Lightbulbs and Lamps
One of the most important places to clean in your home is your light fixtures. Dust and dirt can easily accumulate on lightbulbs and lamps, which can eventually lead to reduced light output and a shorter lifespan for your lightbulbs. To clean your lightbulbs and lamps, simply remove them from their fixtures and wipe them down with a soft, damp cloth.
2 - Dust Ceiling Fans
Another important place to focus your cleaning efforts is on your ceiling fans. Dust can fall and come to rest on ceiling fan blades, which can eventually lead to reduced air circulation and increased energy consumption. To clean your ceiling fans, simply turn them off and use a soft, damp cloth to wipe down the blades.
3 - Vacuum Upholstered Furniture
Upholstered furniture is a common breeding ground for germs and dust, which can trigger allergies and asthma. To remove dust mites from upholstered furniture, vacuum the furniture with a HEPA-filtered vacuum cleaner. Dust mites are microscopic creatures that thrive in warm, humid environments. They are commonly found in homes, where they feed on the dead skin cells that people and pets shed.
Dust mites are not harmful to humans, but they can trigger allergies and asthma in some people. To remove dust mites from upholstered furniture, vacuum the furniture with a HEPA-filtered vacuum cleaner. You can also encase the furniture in dust-proof covers, which will create an environment that dust mites cannot survive in.
4 - Wash Sheets and Pillows
Saliva and dirt will end up on your bedding after some time, which can trigger allergies and asthma. To remove dirt from your bedding, wash your sheets and pillows in hot water (at least 130 degrees Fahrenheit) and dry them in the hot setting.
5 - Clean Carpets and Rugs
Carpets and rugs are often overlooked when it comes to cleaning, but they can be a breeding ground for dust mites and other allergens. To remove dust mites from carpets and rugs, vacuum them with a HEPA-filtered vacuum cleaner and shampoo them with a carpet cleaner. You may also want to consider using an air purifier to help remove allergens from the air in your home.
6 - Dust Blinds and Curtains
Dust can also accumulate on blinds and curtains, which can eventually lead to allergic reactions, especially if the curtains and drapes are left alone for a long period. Washing your drapes and curtains and wiping down your blinds will help keep them clean.
7 - Vacuum Floors
Vacuum your floors regularly to remove the dirt on them. Pay special attention to areas where dust bunnies tend to accumulate, such as under beds and furniture.
8 - Dust Electronics
Electronics is another place where dust and dirt can sometimes wind up. This can eventually lead to increased energy consumption and the slow decline of the quality of the electronics. To clean electronics, turn them off and dust them with a soft cloth.
Conclusion
Conclusion
As you can see, there are many ways to clean your home and keep it tidy. By taking these steps, you can help to reduce the dirt and dust in your home and create a healthier environment for yourself and your family.
If you need deep cleaning services for your home, contact Queen Bee Cleaning Services. We provide the best house and Airbnb cleaning services in Seattle. With us, your properties are in good hands. Get in touch with us now to book a service.
The Benefits of Not Skipping Your Post-Construction Cleaning
It is no secret that construction sites are messy places. There is dust, debris, and all sorts of other messes that can be left behind after a construction project is completed. While it may be tempting just to leave all that mess behind and forget about it, there are some good reasons why you should not skip your post-construction cleaning.
The Importance of Post-Construction Cleaning
As a home or business owner, you may wonder if post-construction cleaning is vital. After all, you spend a lot of money on construction and are probably tired of seeing dust and debris everywhere. However, there are several benefits to not skipping your after-construction cleaning. Here are some of them:
1. Remove Construction Dust
Construction dust can be extremely harmful to your health. Inhaling too much of it can lead to respiratory problems, allergic reactions, and cancer. Therefore, it's essential to remove all the dust from your property before you move in. A professional cleaning company will have the right equipment to do a thorough job.
2. Prevent Damage to Your Furniture
If you don't remove the construction dust from your home or office, it will eventually settle into your furniture. This can cause long-term damage that will be expensive to repair or replace.
3. Improve Air Quality
Dust and debris aren't just unsightly; they can also negatively impact the air quality in your home or office. A professional post-construction cleaning can enhance the air quality for you and your family or employees.
4. Avoid Costly Repairs
If you don't clean up the construction mess, you may have to pay for expensive repairs down the road. For example, if the dust settles into your HVAC system, it can cause it to break down prematurely.
5. Avoid Health Risks
There are a lot of health risks associated with construction sites. Dust and debris can contain harmful chemicals and particles that can cause respiratory problems, skin irritation, and other health problems. An after-construction cleaning with experts will have the necessary equipment and cleaning products to remove these risks and make your construction site safe.
6. Get Your Deposit Back
If you're renting a property that was just constructed, you may be required to have it cleaned before you move in. If you don't, you may not get your security deposit back.
7. Improve Your Property's Curb Appeal
If you're selling your property, first impressions are essential. Potential buyers will be turned off by a property covered in dust and debris. A professional post-construction cleaning will make your property look its best and help you get top dollar.
8. Save Time and Money
An after-construction cleaning is no easy task. It's time-consuming and can be pretty costly if you have to hire professional cleaners. However, skipping the post-construction cleaning will only worsen things and cost you more time and money in the long run.
Conclusion
Not skipping your post-construction cleaning has several benefits. It can help you avoid having to deal with mold and mildew growth, it can help you pick up your deposit back from your landlord, and it can help you keep your home looking its best. So, it's best to add post-construction cleaning to your to-do list after your next home improvement project.
Queen Bee Cleaning Services offers a wide range of cleaning services to suit your needs. Whether you need a one-time deep cleaning, after-construction cleaning, or a regular house cleaning service, we can help. We also offer move-out/in-cleaning services for those moving to a new home. Contact us today to get started!
You know those weeks when your house is so messy you can't even find your socks? We've all been there when life gets busy. There are, luckily, a few easy ways to keep things clean so you can enjoy a mess free home!
One great way to keep your house fresh and neat is to deep clean it once a month. The real question is, how long does it take to deep clean your house? If you think a deep clean sounds like a lot of work, that's because, well, it can be!
Put aside your home cleaning worries! In this article, we will teach you tricks and techniques to make this routine much quicker and easier than you might think.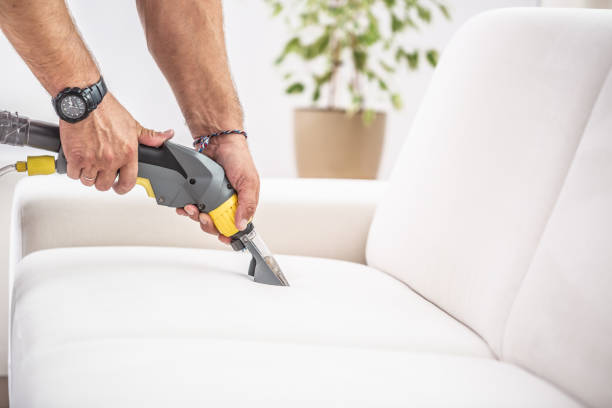 What is Deep Cleaning?
Deep cleaning is the process of thoroughly cleaning your house from ceiling to floor, removing every trace of dirt and grime. A deep clean should be done about once a month to keep your home consistently clean and tidy.
If you don't do it regularly, you might spend hours and hours cleaning each week to feel like your house is somewhat tidy.
While a quick once-over of each room each day is important, deep cleaning is the way to remove all the accumulated grime, dust, and dirt that everyday cleaning doesn't reach. It's important to deep clean every month so you don't have to worry about being too behind on your cleaning routine.
Why Should You Deep Clean Your House?
There are many reasons why you should be doing a thorough deep cleaning of your house at least once a month.
For starters, deep cleaning your house will make it smell better, which can help you stay happier and healthier. A clean home also helps you save money, as it's much easier to stay organized in a tidy house.
A consistently clean house will make it easier to sell your home if you're thinking of listing it for sale. Finally, regularly deep cleaning your house helps you develop better cleaning habits, making it easier to stay on top of your housework.
How Long Does Deep Cleaning Usually Take?
There isn't a set amount of time that you need to dedicate to cleaning your entire house. However, it is a good idea to schedule at least two hours once a month to thoroughly deep clean your house, and three hours if you want to pay extra special attention to dusting and vacuuming.
If you want to increase the speed and effectiveness of your deep cleaning routine, here are a few tips and tricks to try:
First, get your supplies and cleaning products ready before you begin so you don't waste time looking for them while you're in the middle of your deep cleaning session.
Next, try to break up your deep cleaning tasks by room. For example, you can start by vacuuming the living room, then move on to the bedrooms, and so on. This organized routine will help you avoid getting bored or missing rooms and will make your deep cleaning session much more manageable.
Which Rooms Should you Focus On During Your Weekly Deep Clean?
A few different rooms deserve special attention during your monthly deep cleaning session: the living room, kitchen, and bedrooms.
Your living room is the space guests will be spending most of their time in, so it's best to keep it clean and tidy. Your kitchen is bound to be one of the dirtiest rooms, as it's used very often. Be sure to put extra effort into deep cleaning it each month.
Finally, the bedrooms are where you and your family sleep, so keeping them as clean and dust free as possible is important.
Try These Cleaning Tricks to Make the Process Go Faster
There are a few tricks you can try when you're deep cleaning your house to make the process go a little faster:
Make sure you have ample light in each room you're cleaning. Good lighting makes it easier to spot dirt and grime, which is key during a deep cleaning session.
Play a fun cleaning playlist or podcast while you clean. Not only will this make your cleaning sessions more enjoyable, but it will also help you stay focused and energized.
Start from high to low when dusting, so you don't need to go back over areas twice!
Don't forget to vacuum your ceilings, and be sure to do it before you vacuum the floor or dust the furniture.
How to Deep Clean Your House in Just 2 Hours
If you're short on time and are trying to fit in a deep cleaning session, the best way to do it is to start in one room and work your way around the house. First, vacuum the living room, then move on to the kitchen, and finish up in the bedrooms. If you have time, you can also vacuum the ceiling, clean the windows, and dust knickknacks.
Conclusion
The key to keeping your house clean is to make cleaning a regular part of your routine. It's easier to stay on top of your housework if you have a cleaning schedule and follow it as closely as possible.
A weekly deep cleaning session is a great way to stay on top of your cleaning and keep your house feeling fresh, clean, and tidy. Remember that you don't have to clean your entire house in one day. You can split up your tasks and clean for a few minutes daily to ensure you don't get too far behind!
If you don't feel like deep cleaning your home yourself, we are here to help! At Queen Bee Cleaning, our experienced cleaners strive for perfection & won't stop until your home is clean & you are satisfied. We are committed to offering fast, reliable service at a reasonable price, backed by our 100% Quality Service Guarantee: If you are not delighted with the service, we will re-service the area within 24 hours of notification for free.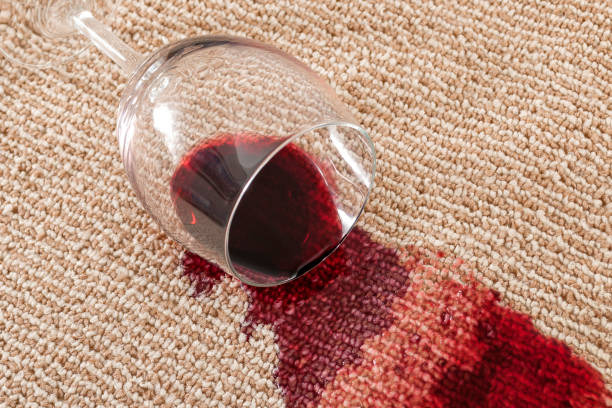 Wine is a fantastic drink. It's refreshing, relaxing, and great to have with company. However, wine can stain carpets in a big way!
When you have wine stains on your carpet, you may feel embarrassed because of the red blotches on the floor. Thankfully, there are ways you can remove those wine stains from your carpet so that you don't have to worry about them any longer.
Red wine is a common stain on carpets because it contains high tannin content. Tannins are polyphenolic compounds found in many plants, trees, and vines like grapevines. They are also soluble in water as well as acids.
When red wine is left to sit on the carpet for too long, tannins begin to seep into the fibers and cause discoloration and staining. Keep reading to learn tips on how to remove pesky red wine stains from your carpet!
White Vinegar
White vinegar is an excellent cleaner for all kinds of stains. It is a mild acid that breaks down tannins and other stains.
How to Use it:
Use a clean white cloth or sponge and soak it in white vinegar.
Apply the vinegar to the stain
Let it sit for about 10 minutes (Follow the instructions on the back of the vinegar bottle for the appropriate amount for your type of carpet)
When the time is up, use the same cloth or sponge and rinse the area with water.
Depending on how much wine has spilled, you might need to repeat this process more than once. Be careful not to let the vinegar sit on the carpet for too long because it can destroy the carpet's fibers.
Baking Soda
Baking soda is an excellent cleaner and a natural deodorizer. To clean the wine stain, take fine sandpaper and lightly sand over the stained area of the carpet. This sanding will help scratch up the stain so that the baking soda can more easily work to remove it.
After you've sanded the stain, take the baking soda and shake it on top of the stain. Then, take a clean white cloth or sponge and pour water over the baking soda. Let the baking soda and water sit on the stain for about 30 minutes.
For best results, follow the instructions on the back of the baking soda box.
Dish Detergent
Using dish detergent to remove a stain from your carpet can be a great idea because it has a potent cleaning agent that can break down the stain.
How to Use it:
Before applying the detergent, blot up as much of the stain as possible with paper towels.
Use a bowl of ice water and a clean rag to blot the wine.
Sprinkle dish detergent on the stain
Let it sit for at least 15 minutes.
Use a spatula or your hands to gently rub the stain in small circles until it is gone.
Take a clean white cloth or sponge and pour a bit of dish detergent on it.
When the time is up, use the same cloth or sponge and rinse the area with water.
Depending on how much wine has spilled, you might also need to repeat this process more than once. Be careful not to let the dish detergent sit on the carpet too long because it can also break down the carpet's fibers.
Dry-Erase Markers
Dry-erase markers are usually used to write on whiteboards and blackboards. However, dry-erase markers also can work on red wine stains.
How to Use Them:
Take a dry-erase marker and put it on the stain.
Let the dry-erase marker sit on the stain for about 30 minutes.
When the time is up, take the dry-erase marker off the stain.
Ammonia
Ammonia is a common household cleaning ingredient, so it isn't surprising that it can also be used to clean wine stains!
To begin, add one ounce of ammonia to a solution of five ounces of warm water. Soak the stain in this solution for at least 15 minutes, then blot it up with a white cloth and rinse thoroughly with lukewarm water. Repeat as needed until no more stains appear.
The ammonia should cause the stain to break down and be absorbed into the carpet fibers. The resulting discoloration should dissipate over time if you follow the steps outlined above.
When mixed with a bit of water, it can remove substances such as red wine and grease from your carpets and rugs. If left on the carpet for too long, it can damage the pile and make it look worn or uneven.
Bleach
While many believe that bleach is the best way to clean red wine stains out of carpets, it isn't the best solution.
It can actually make things worse! When you use bleach to clean a carpet stain, it can react with the polymers in carpet fibers and cause them to break down. This can permanently damage the carpet fibers, making them less able to soak up liquids or handle high temperatures in the future.
In addition, bleach tends to dry out your carpet by removing crucial oils from the fibers. To avoid these problems, consider testing a small carpet area first before using a lot of bleach on the entire carpet. If you decide to use bleach, dilute it with water first, so it doesn't affect the carpet fibers too much.
Conclusion
Now you can relax the next time you invite your friends over for drinks! It's easy enough to clean the stains away before they have a chance to dry and become a permanent stain on your carpet. If the stains have set, you still have a good chance of getting them out using the tips mentioned above.
If you don't feel like going through the hassle of cleaning out the stains yourself, or you have a pesky stain that won't come out, try a professional carpet clean! Here at Queen Bee Cleaning, we specialize in high quality carpet cleaning services. Click here to learn more!